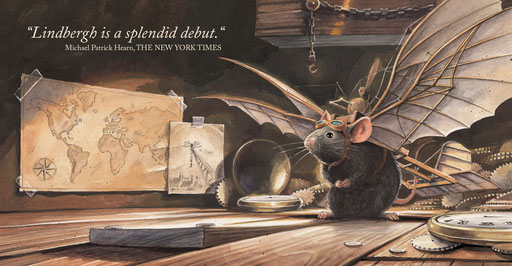 In the early 20th century ...
In a large city, where once all the nooks and crannies where filled with numerous lively mice it suddenly became very quiet. Places that had been filled with life were left abandoned.
Only one small mouse carefully roams the town's alleys in search of his friends. But they are all gone; driven out by cats, birds and above all; by humans. They left in such a hurry that they had to leave everything behind and also forgot one of their own in the bustle.
Now the little mouse is doing it's utmost to follow his forlorn friends. Quickly, first plans are made to reach the far away and often longed for land. However, all passages seemed to be blocked by ferocious felines.
Only barely can our mouse escape its swift hunters as it tries to crawl onto the deck of a huge ship without being noticed. He flees though the dark channels far beneath the bustling city and meets eerie but extraordinary flying creatures lurking down there.
Low and behold our mouse had found a new way to reach its beloved land. The little rodent must learn to fly! Rapidly our mouse builds a flying machine using all kinds of bits and bobs it finds in the human world. But soon we will learn that one needs more than a pair of wings to be able to fly. As the constructions become evermore refined, the attempts at flight grow more spectacular. But these don't stay unnoticed for long ... Humans try to find and capture the tiny pilot and sinister owls are not at all amused that their favorite appetizer is trying to conquer their realm of flight.
Times are tough for our little mouse and his big aspirations to reach a distant land ...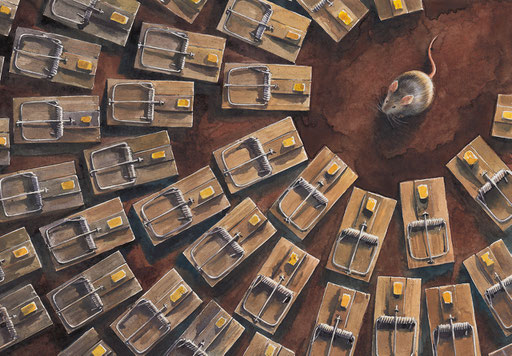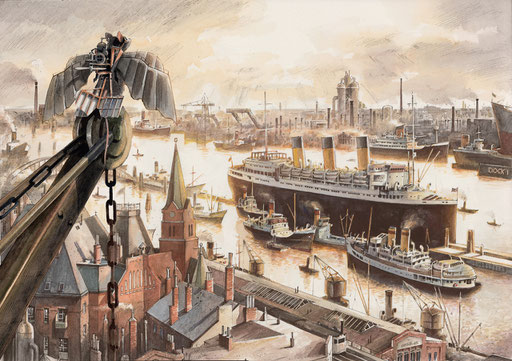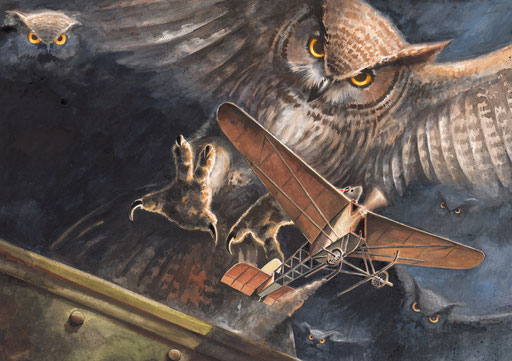 Lindbergh - The Tale of a Flying Mouse
Story, illustrations and book design by Torben Kuhlmann
English text by Suzanne Levesque
Foreword by F. Robert van der Linden,
Curator "Spirit of St. Louis"
Smithsonian Institution
Age Range: 4 and up
Grade Level: Kindergarten and up
Hardcover: 96 pages
Publisher: NorthSouth (May 1, 2014)
Language: English
ISBN-10: 0735841675
ISBN-13: 978-0735841673

Golden Island Award 2015
Nami Island International Picture Book Illustration Concours

Indiefab Winner 2015
Foreword's Book of the Year Award

MGA Book Award 2015
The Best Children Book

Outstanding International Book 2015
United States Board on Books for Young People (USBBY)

"The eye soars between aerial views and close-ups of old Hamburg in this beautifully rendered and well-thought-out picture book..."
"Lindbergh is a splendid debut."
Michael Patrick Hearn
The New York Times
"Perhaps the most visually stunning book of the year!"
Minh Le
The Huffington Post
Spring/Summer 2014 Picture Book Preview
"Lindbergh - The Tale of a Flying Mouse is a beautifully illustrated story of a little mouse who seeks a new life in America. But how does a mouse leave his home in Germany and cross the vast North Atlantic? He flies, of course. What follows is a charming story of a courageous little mouse defying odds to overcome his fears and challenges of the world."
F. Robert van der Linden
Curator "Spirit of St. Louis"
National Air and Space Museum
Smithsonian Institution
"An exceptionally fine debut!"
Publishers Weekly
"It's An American Tail meets The Arrival. Lindbergh by Torben Kuhlmann is undoubtedly one of the most gorgeous little books I've seen in a very long time. The art brings to mind illustrators like Bagram Ibatoulline or Robert Ingpen. Always great to have a new name to play around with. And a new book, for that matter."
Elizabeth Bird
New York Public Library
Youth Materials Collections Specialist
"Whatever your reason for reading it, you will probably love it."
Suzanne Costner
The Fairview Review
"The sheer beauty of this book is likely to overwhelm the senses. Its greatest asset is its ability to enthrall on contact. Breathtaking and simple all at once, it's neither fish nor fowl: It's flying mouse. Not much like anything you've ever encountered at all. Certainly it was worth its trip across the ocean to reach us."
Elizabeth Bird
School Library Journal Review
"The storybook is certainly one that will enjoy great shelf life and be a great tale for generations to come. The powerful little book will leave a vibrant impact on all readers and will keep the spirited histories of aviation and coming to America alive. It is a story of patriotism that will instill a sense of pride for American history and aviation. Lindbergh: The Tale of a Flying Mouse is a must read!"
Annamarie Buonocore
In Flight USA
"Richly written and stunningly illustrated, this would make a valuable curricular addition to any school (or public) library and supports those interested in the craft of the writer and the illustrator's art. Highly recommended."

Dornel Cerro
Head Librarian, Sequoyah School

"If you get it for your kids then it's likely to still be on your shelf when they're bringing the grand-kids over 25 years from now."

Robert Slaven
Review on www.goodreads.com